June 14, 2021 @ 2:11 PM
It has been quite a disturbing week at our abode. After returning from Chicago Original Sewing and Quilt Expo I wanted to take some pictures of our new fabrics. The fabric was all laid out ready for its photo shoot--and the camera was dead! I JUST charged the battery!?!?!!?!?!? Seems my camera has developed a case of 'Nikon Green Light of Death'. A night of internet search and many failed attempts of revival has determined it is a terminal condition. Not to fear I have found a way around this problem, I just remove the battery when I am finished taking pictures--kind of like my car where I remove the fuse so the battery doesn't drain overnight. Maybe I should visit a used car lot...
I did manage to get some prints of the new fabrics.
Another great line from J Wecker Frisch has this large panel as well as one for six placemats and an all over print.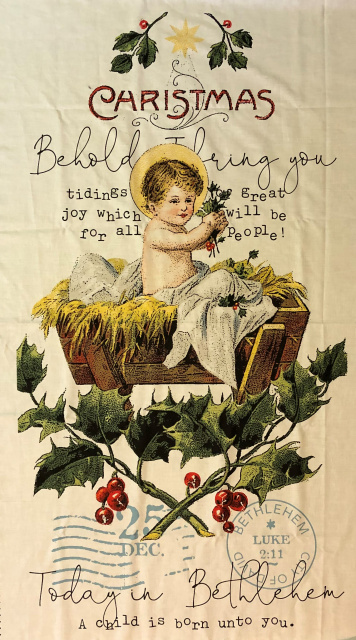 It is 'Christmas in June' or so it seems as we have also received a couple new Christmas prints from Northcott and Elizabeth Studios
Here Comes Santa from Northcott. I asked my brother and nephew what kind of tractor this is, as it probably isn't licensed so the name is blocked out, the front grill had them stumped and we now refer to it as a 'red tractor'.
Santa Clause is Coming to Town from Elizabeth Studios. This has a companion panel of fifteen blocks similar to the Butterfly Meadow panel below.
Just so we don't get too confused about the seasons we also received Butterfly Meadow panel and wildflower field print from Elizabeth Studios.
We also received an new fun panel from Block Party Studios, they did coffee and chocolate but and they have completed a wine panel.
I was under the mistaken impression I had a lot of time to get ready for our next show in Akron--Northeast Ohio Sewing and Quilt Expo--then I realized it is only 4 weeks away. Since the shows have started up time is just zipping by! It looks like there is still time to enroll in some classes but some are all filled so be sure to check the web site out very soon. Hope to see you there!
Happy Quilting,
Marilyn