September 12, 2020 @ 5:13 PM
Suddenly it is September and Pumpkin Spice is everywhere--now I am not out of sync as I drink pumpkin spice all year long.
We have updated the prices on our web page so they no longer include shipping. The shipping included pricing made multiple items way over-priced, which I could take care of in refunds and charges but I think this will work better. I guess you could say it was a result of the pandemic as I actually had time to figure out a few things with the site. Now when you check out you can add the shipping charges and orders over $75 will ship for free. Patterns still include the shipping charges. There is a button to check if you are ordering a pattern for zero shipping charges.
At this time of the year setting up for a show is usually on 'auto-pilot'. It has been so long since we were actually at a show I am a bit worried I will have forgotten the basic steps of set-up. The eldest Junior partner tells me it is 'like riding a bike'. I hope she is right and it is not like trying to keep a hula-hoop spinning. I used to be able to do that !?!?! Be sure to check out this great show. It will be a bit different, no classes, but plenty of vendors.
In the last posting we told you about a video to make the border on this quilt, you can find that video on our facebook page: Wilson's Calico Corner. Below is the quilt top I was working on in the video. You can find this panel and the star fabric on our fabrics/spiritual/Inspirations page. The panel is 'In the Beginning' from Quilting Treasures. The pattern for the border can be purchased on the pattern page as well. It is on the Christmas Wish panel pattern.
To make this stocking, use another stocking for a pattern, make a front and lining, stitch and turn.
The plaid is from Robert Kaufman and the print Windham Fabrics Comfort and Joy.
This panel arrived a few days ago--It really looks like real photographs of dinosaurs. Now as we have always been told you can't believe everything you read and apparently much of what you see in a picture as well!
Another great panel is 'All is Great' from James Merger for Elizabeths Studio. The colors are so rich in this one.
Wilmington Prints is following its Water Wishes with a new whale panel and book. 'Whaley Loved' panel is 24" by wof and the soft book will be about 8" by 9" when completed.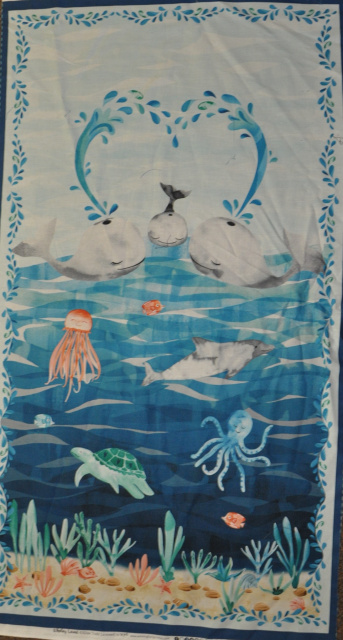 Of course the blocks can be stitched in to a quilt as well.
The rains that came through last week really have the grass growing, another thing that is different this year. Usually I barely get the grass cut once in September but I can see this year it is lush green and begging for more mowings than one.
Please stop by the show in Fredericksburg, VA and say hi. If you want to pre-order something, let me know and I can have it packaged ready for you at the show.
Happy Quilting and enjoy these last few days of Summer.
Marilyn