August 16, 2020 @ 7:03 PM
Suddenly I have noticed it is getting light a bit later and darker a bit earlier--can fall be far behind?
If you have had a chance to visit our Facebook page: Wilson's Calico Corner. you will see we have a video on how to make a walker bag from a placemat panel. I have made these in the past for a bag to hang on the back of a stroller, it was actually for a small dog stroller but it would work for a kid too!
As all shows have been cancelled until at least October there has been plenty of time to make up some patterns. This bag pattern is one. It is a downloadable pattern but because I used too many pictures in the pattern it has to be sent in two emails but it still cuts the cost considerably. Measurements are given but as all placemat panels are just a bit different in size directions are given to cut according to the size of the panel.
Click above or on the picture to get to the pattern page.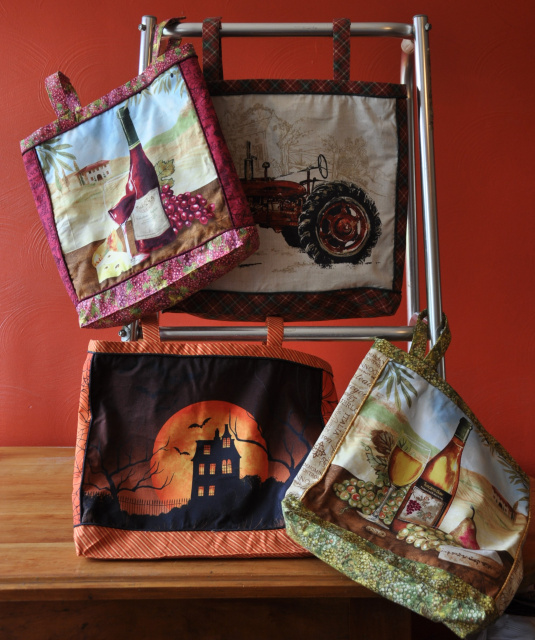 This fabric from Robert Kaufman, Library of Rarities has just arrived again. I can not say how long it will stay in stock but it is a great print and subject to sell out very fast. Each row of books is about 4" tall. The picture shows a yard length, half the width of the fabric. Again clicking on the picture or above link will get you to that fabric's page.
Also from Robert Kaufman is Area 51. There are two fun prints available. If you click on the link you will arrive at one print and the click on the picture gets you to the other.
And of course Robert Kaufman also has some great science notation fabrics. Mid week we should be getting more science prints in so be sure to check our fabrics/science page later this week.
This print comes in white, black, or blue and notice it is NOT directional.
When you visit our Facebook page be sure to check out the videos we have posted. There is one video that is a short tour of our 'shop'. The junior partners used to laugh when someone at a show mentioned how large our store must be--it is more like "How do you get all this in that room?". But of course if you are in the neighborhood you are more that welcome to stop by.
Enjoy the remainder of the summer, I am running out of berries to pick--raspberries are finished as are the blackberries and the elderberries are just about finished. ( I had forgotten how good elderberries are.) With little rain the grass has given me some time off so there should be more patterns in the near future.
Hope to see you in October at the Original Sewing and Quilt Expo in Fredericksburg, VA.
Happy Quilting,
Marilyn