November 10, 2020 @ 1:52 PM
The week before Thanksgiving treat yourself to a trip to The Original Sewing and Quilt Expo in Lakeland, Florida. Be sure to check out all our new fabrics so you can get a head start on the show. If there is something you really really want, let me know so I can set it aside for you to pick up.
All the fabrics you see here as well as whatever I can stuff into my pick up truck (Check out this video from my facebook page to see how much that is--a marvel of packing engineering.) will be available at the show. Can't wait to see you.
Our newest panel is 'Pups in the Garden' from Henry Glass. There is also a panel of blocks and a pawprints and bones coordinate.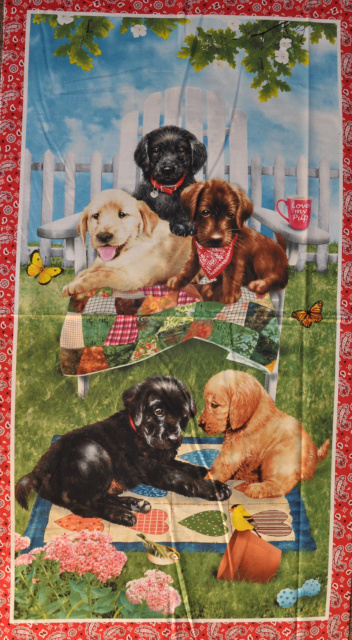 As I promised last time we did receive the Library of Rarities book fabric as well as some pokemon fabric from Robert Kaufman. Just about as soon as the book fabric arrived it was gone, but we do have some pokemon left. I re-ordered that Book fabric and it is supposed to be here the end of the month or next month, stay tuned!
Another new fabric from Robert Kaufman is 'On the Road'. This print has so many great cars--none I had but some I dreamed of having! I still wouldn't be opposed to owning one of these! They are a lot more expensive now than when they were new.
Billy Jacobs has a new Headin' Home print for Elizabeth Studios, country scenes with inspirational messages on a barnwood siding background.
I wish you all a very Happy Thanksgiving!
Marilyn