May 19, 2021 @ 12:18 PM
Spring has finally arrived--we think. Until last week we were still getting frost but I think it might now be safe to plant some flowers. Of course if I do that today you can be sure it will frost by the weekend!!
The Original Sewing Expo will be presenting their next show in Schaumburg, IL the first week in June. Classes, Quilts, and the return of the CosPlay fashion show. Saturday is so much fun watching all the costumed attendees. Although I was a bit confused the first time I saw this. Be sure to stop and see us in Chicago next month.
A return engagement for our Nifty Nurses. The third one from the left on the top row reminds me so much of the senior junior partner. Check out our whole line of medical themed fabrics.
We used this panel to make a tote. The pattern is downloadable.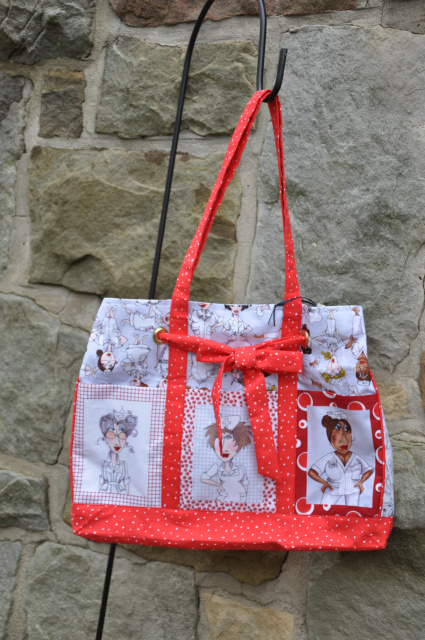 While everyone is getting ready for spring we are receiving Christmas and Winter fabric. We have a couple new Grinch selections including the 12 Days of Grinch from Robert Kaufman. Not only do I have trouble remembering what day it is, I also have difficulties with the seasons. I am working on Christmas and Hanukkah samples in the morning then planting flowers in the evening.
Robert Kaufman has a line -- Winter Visitors-- each of which has a different bird. Gold Finch, Cedar Waxwing, BlueBirds, and Chickadees. I remember one Christmas we had about 2 dozen Cedar Waxwings outside the kitchen window dining on the crab apples left on the tree.
Henry Glass always has some really nice fall prints. Pumpkin Harvest will work all the way until after Thanksgiving. Cut apart you can make a great table runner and some mug rugs or pot holders. The narrow designs would look great on towels. Of course you can also make a wall hanging with some other great autumn fabrics.
Our very learned kittens are playing in the library. Literary Kittens from Quilting Treasures. Not sure how that globe is staying on that shelf--I guess its demise is on the next 'frame'. They aren't the same color as the ones my nephew has right now but they are acting exactly the same way. His are black with little white paws.
Also from Quilting Treasures is Hummingbird Garden. Panel with six different pictures and a coordinate of 'tossed' hummingbirds.
As I said earlier I was working on a Hanukkah project. A table runner using the Hexagon Star pattern.
Please be sure to stop at our booth in Chicago the first week in June to say HI!
Happy Quilting,
Marilyn