February 8, 2020 @ 7:41 PM
Phil has not been scared back into his burrow by his shadow so we are eagerly awaiting that 10 degree spring. We are all excited the Frosted Wheat Crop is ready. Just in case our friendly groundhog isn't entirely correct we have a few places for you to visit in the next few weeks while waiting for warmer weather and a new old tradition to take part in.
I hope you all took part in the Hari-Kuyo today. The Ritual of Broken Needles. I heard about this while listening to this really unique radio station out of New Jersey. (Crass Commercial here) I found them while traveling to a show and have listened to them on the internet ever since. If you want a great station, tune in WDVRfm.org .It is an all volunteer radio station and each disc-jockey has a two to three hour slot every week. Every genre is represented. and there are no commercials and you can send requests or call the DJ's to make comments . They are run entirely with donations, no government money so they can pretty much play what ever they wish. By listening to this station I have learned that we have Silent Night because of a mouse, that Dan Fogelberg's Same Old Lang Syne was a true story, and on Thanksgiving one DJ plays the entire cut of Alice's Restaurant, which is also based on a real happening. In addition I learned that today, February 8 is the Ritual of Broken Needles. Japanese women save their broken and dull needles all year and then on February 8 take them to a Budist temple to be honored and blessed. This is a tribute to old broken needles of the past year and an opportunity to pray for new and better sewing in the new year. What a great celebration. I have to say my broken needles are usually 'blessed' at the time they break!
First we will be in Hampton, Virginia at the end of this month for the Mid-Atlantic Quilt Festival. You can see all these prints in person. It is a great show with lots to keep you busy.
Later in March we will be at the Pittsburgh Creative Arts Festival March 20 - 22 at the Green Tree Double Tree. This great show has something for all needle workers. A smaller more intimate but great show. We will be in the Duquesne room, stop by and say hi.
The last show in this six-week stretch is the Original Sewing and Quilt Expo in Cleveland, Ohio. If you come in cos-play costume on Saturday you can participate in a fashion show and you get in free. This is another fun show. Try to make one of these for a late winter/early spring break.
Hopefully before these shows we will have completed the pattern for this Cobbler's Apron. But if not we will have the Country Roads Market fabric it is from as well as the panel and other coordinates.
Besides Tomatoes, Carrots , and the mixed vegetables shown in the apron there is a placemat panel that would also make a great grocery bag.
Back in Stock are Softball and Volleyball along with Soccer, Lacrosse, and Football.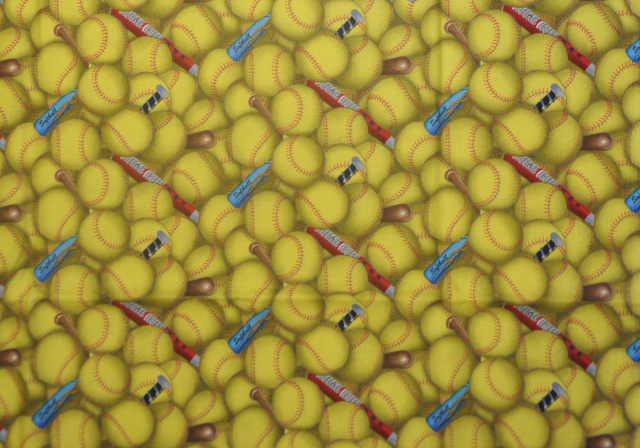 A couple of the Floral Groups we received are Timeless Treasures Pansy Paradise. A Stripe, two pansy prints and butterflies.
A second Group is from Wilmington Prints called Sketchbook Garden. A panel and four different coordinates
Assuming I can get all this fabric in my truck without braking the bed off you will be able to see it in person at the shows. Finish up those last projects before the spring flowers call you outside.
Hope to see you at the show.
Happy Quilting!
Marilyn